MY NAME IS NATALIA, I HABE NEARLY 34 YEARS, I MEASURE 1.56 METERS AND WEIGHT 69 KILOS ......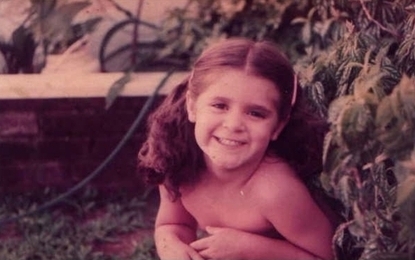 From chiquitita weight was an "issue" in my life, I was overweight but if the maximum weight and height-minimum tables physicians.

I practiced a lot of sports at that time so I kept my weight stable. Due to various injuries and I suppose for lack of desire I did not practice, I remember in about 4 months I went like 15 kilos which never went down and stayed at that weight until finished high school, and at age 17 weighed approximately 77 kilos.
At 18 I come to Buenos Aires to study, I kept my weight of 77 kilos a few years, I also started to smoke which I guess helped me not gain weight but became another problem and another serious addiction, I could never, from the very start smoking less than a pack daily.

In March 2002 and with 24 years I'm going to live alone (my younger brother). A few months later I get wedding and during the relationship that lasted several years I gain weight about 17 kilos never back down, and weighed 94.
I kept that weight several years and increased cigarette addiction, smoking nearly 2 tied newspapers and worked at home from the computer therefore had no control whatsoever as to the food or cigarettes.

In late 2007 I decided to take the bull by the horns and I force myself to stop smoking, lose weight, take 5 subjects in college and get permanent work outside my house .... The result? ... I start the year 2008 with panic attacks, I'm not going to college, I quit not get a job nor.
I'm a psychiatrist and I medicate with Meplar and Alprazolam, between medication and therapy to achieve pull myself over the months but for three years I fulfill rigorously with medication for treatment.
Many patients taking antidepressants say they gained weight due to medication, I really I can not put all the responsibility on medication because I know exactly what I ate and really were huge amounts of unhealthy food accompanied by a sedentary life, so do not As there is liability on medication and how much was mine.

Of the 94 kilos I start weighing 2010 weighing 105 kilos and smoking 2 bunches day but luckily appears stable job in my life again and that helps me to access a prepaid and put some order to my life, now the less had a routine to perform.
In mid-2010 I decided it was time to start putting a little more order in my life and decided to ask a nutritionist shift, so the September 7'm going to see Ms. Salinas in CEMIC of Belgrano, I say I want to lose weight, which I have hypothyroidism, I get tired, I snore and I do not want to look like that anymore.
It is she who first told me about bariatric surgery, I named something like "Gastric Sleeve", "Surgeon Carlos Giordanelli", "I think", to which I reply that I undergo NI LOCA something, she smart , realize that I could not even think about it and insist, give me a diet and before retiring from office tells me that "if you think ... would you quit."
I leave the office thinking that "she was crazy", that "not crazy would quit much less I would have surgery for that." Never saw her again, but what we talked about that day I had been branded on his head and was recurring theme in my therapy sessions, obviously still gaining weight and smoking.

The November 18, 2010 I decided for the third time in life to quit smoking, remember that it was the 18 hours I was in the office and told me, as so often: "This is my last fag".
The first 3 days I thought I would die, I swear, I had all the symptoms of withdrawal, ALL, my hands were shaking, I was in a foul mood, could not sleep and I ate everything!
I knew I had to hold on to something and decided to put daily every achievement in the Facebook, to my surprise I received daily support from my friends and they were not therefore always words of affection, give me strength, I I said no surrender, that everything could be in life and I swear that was really important to me and became my lifeline.

And so people, that was my last fag and I'm super proud of it.

So I realized that Salinas was not so crazy because after all the anger I had to leave the office was taking the first steps and he was doing che case.
Not to mention that I put on a few kilos with the "left-smoking" but for the first time in my life I understood, thanks to therapy that addictions are overcome step by step, I could not pretend to do everything together because my body and my "bocho" going to go crazy like back in 2008 and really did not want that for me again, so I decided to give me permission to allow me a few kilos more fat if necessary but that the butt had to be part of the past.

Months passed and I reached the point of not wanting to take pictures of me, of not wanting to pass in front of the mirrors, if a man invited me out completely dismissed the idea. Never had self-esteem issues but now I do not recognize in the mirror, I could not recognize my face, I was really worried.
I decide to start again and for the umpteenth time back to diet and Cormilot Clinic when I accused the balance weight 106.7 kilos ... I thought I was going to put to mourn, I swear, at that moment I was thinking and trying to understand how the hell it got there.

My birthday is on 33, June 16, 2011, I think the pictures of my birthday were the CLIC final to regain control of my life.
When I saw the pictures really wanted to mourn, not really remember if I did, there was a picture I took my brother where there was a large and obese lady sitting on the couch in my mother took me a few seconds to realize, that lady and I was obese, with only 33, just turned.

I was a long time, does not specify how, looking at the picture and thinking that if he was going to die so young and most likely never formed a family, never had children and more importantly, I would never back to love and not because men do not look at me but because I would not let me even think about the possibility.

Some months passed and I decided that perhaps "the operation was not such a bad idea," perhaps Ms. Salinas was not so crazy after all.
Coincidentally (my analyst would say that there are no coincidences and each passing day I understand more) on September 7, 2011, exactly one year from my first visit to Ms. Salinas I have turn to see the CEMIC Bariatric Surgeon Dr. Carlos Giordanelli.

I did 400 questions, I looked at every possible way, read my chart up and down, I turned to look for every possible way, I asked more questions, I weighed, calculated my BMI (body mass index) I took an oath and swearing did not smoke more, looked back at me a thousand times more, (I guess it was a sort of "x-rays" built to be brought from the faculty), no idea, but it's at least what I felt .
Only then explained as was the method I spoke of a Gastric Bypass, my BMI, problems have both overweight hauling, despite what should actually told me about the pros and cons of the surgery, I warned that my life would change forever and in final form, he told me to understand that never, never going to be able to eat or drink as it did before and which would have to take vitamin supplements for life.
I said it was a major candidate for the operation because he had stopped smoking, had hypertension or obesity-related diseases.
They were with him during the interview two BA in nutrition, Valentina and another girl more than I did not see. I get a system, do send me 400 million research and tell me if everything goes right and below 10% of my weight in 3 or 4 months I operate.
I thought it was going to be happy there but the truth ... I got scared to death! I heard many and many never ever, for an addict like me was impossible to think.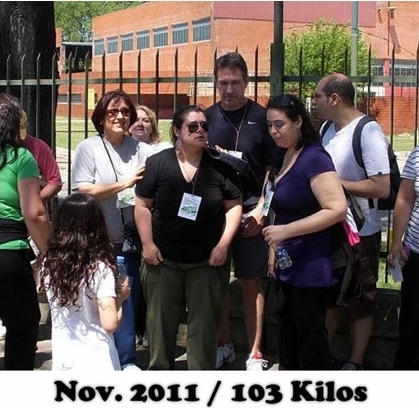 It was months and months of fighting the bad habits, the food, binging and boycotts. Quitting was hard, but stop eating like I did and not being able to smoke was really terrible!
Another great "theme" was my job, I thought how I would do to raise the possibility to get surgery for post operative issue, the absences, the trips to physicians, studies in work schedules, etc.. I had read many colleagues operated and commented the problem with their work for the operation. I was filled with courage and went to talk to my boss, expecting the worst, of course.
And not only allowed me to go to every doctor and study necessary during working hours, also helping my teammates supported me with the different diets was doing, I encouraged if they saw me flinch and I closely controlled as not to lose the bearing , actually all of them were very important in this process, I will always be indebted to them.

I did all the research, I went to every doctor, every Wednesday to see the surgeon, all gave good fortunately, blood and urine studies complete, ultrasound, ecodopler, spirometry, endoscopy, stress testing, psychiatric interviews with members of CEMIC, electrocardiograms , echocardiograms and do not know how many "sets" more.

As the time approached for the "possible" operation I was feeling an inner peace in my life ever remembered tenido.En this whole process I did not want anyone's help, I felt it was something he had to do alone, as a woman adult, felt it was the first decision you took as a woman, without consulting my parents, they ....... They were to tie!

As much as patalearan and be angry excluding I followed every medical, warned them that he would take a walk with patients and operated by the doctor and we were still waiting for the date, which invited the family that if they wanted could go and that would be the opportunity you gave them to meet the doctor.

Today I remember that day very gracefully.

As I imagined the surgeon asked what they wanted, it was just as I had asked my previous months and I had responding faithfully bibliography and Youtube videos, but good, it seems that is not the same if I says "doctor".

That same day, the walk, I get the transaction date, December 2, 2011. I could not believe, I froze, was a month only.
The feeling was a mixture of joy with uncertainty and terror, I remember being petrified feet could not take off the ground.

I start with the liquid diet on the first day you want to die, the second you do not want to die but "almost" and the third and do not care anymore and you no longer have hunger and strange no longer chew.

Days passed, I got over 10% of the weight I had to lose, which made me very happy and half resolved family issues that I had to bring evil.

On December 20, 2011 I had surgery at 7:45 AM at the CEMIC de Saavedra, surgeons were Dr. Carlos Giordanelli and Dr. Paul Monti.

I remember he took me to the clinic my father picked me up at my house at 4:30 am, I had never seen him so scared, ever.
When we got to CEMIC my father asked me if I was sure, I said yes and started walking along the beach parking lot to the clinic building, I swear I was floating, I felt I was flying, I was in another dimension.
When we got to the bedroom I quickly put on my robe and I kept all the procedures required for surgery, I weighed, 97.6 Kilos, had begun treatment with 110.4 Kilos, I was super happy.

I was so relaxed that I even had time to get me in robe and upload photos to Facebook while waiting for me to come and look, I was anxious, I felt very prepared and I wanted to happen once and for all.
I went to surgery on a stretcher, I remember I went through a kind of took on the stretcher same and so entered the theater, I remember dying to tell the surgeons that the "both" that had made were horrendous, embroidered half and half mustard, but I was smart and I said nothing, I was not the right time for a correction so banal!

I returned to the room late morning, it hurt, it hurt a lot, but I was prepared for that, was strong and happy and could put up with anything, because I was sure that what had happened was the best decision I had made.

I was discharged and spent a week at my mother's house in Buenos Aires under their care, spent Christmas together, they ate some soup and jelly and I, I toasted with water and fell asleep again, I promised that next Christmas would be different.

I was going every obstacle with patience and fortitude, if you think it is easy to tell you right now do not even try.

Started the 2012 with drains and points, taking chicken soup and toasted with light juguito I did not care, I was happy!
A week later I took the drain, at 15 days the points, at 3 weeks and went back to work and normal life was.

As of operated traveled to Step of the free, my hometown and upbringing to see the carnival and some friends.

And a month after the surgery I had the permission and got to my girlfriend.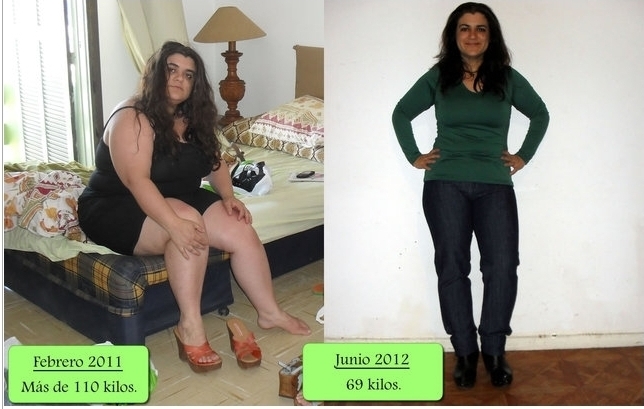 My name is Natalia, I have nearly 34 years, I measure 1.56 meters and weight 69 kilos, I am a recovering obese, I live in Buenos Aires, on December 20, 2011 I did a Gastric Bypass that changed my life.

I've downloaded 41 kilos, and I do not snore, I do not shake when walking, I was able to tie my shoes, I no longer cry fat, men turned to look at me, I'm not smoking, I return to the faculty of the semester is coming, and do not take psychiatric medication and found a divine man who loves me and supports me in all the way.

This is my experience, I have loved her.



MY NAME IS GUSTAVO KRAUSE, I'M BARIATRIC SURGERY.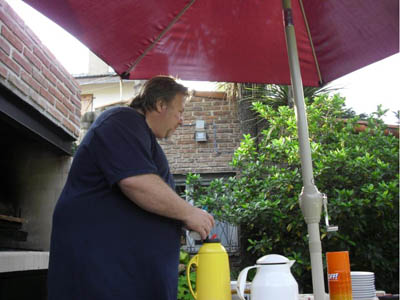 I was fortunate to have had the surgery in CEMIC place where my family has gone every time you had a serious problem.

My first interview with Drs. Monti was Giordanelli and mid-January 2011. The next day I started a diet not a diet firme.Pero more of the many that had tried so many times in my life, (some serísimas others not so much ...) This time, I started it with the certainty that I would get conclusive results, through security with me entrevista.La remove the diet was accompanied by controls and monitoring of surgeons and Dr. Salinas, and other professionals associated with the group.
It made me different clinical and psychological studies designed to prepare for surgery, not only physically but also psychologically.

This is because weight loss does not occur as a magic act, but, as a personal contribution to the work of the surgical team bariátrica.Un fair summary would be to say that surgery is an excellent tool, effective, powerful, to solve this problem, and must learn to use it.
The team will take care to teach, and one should surrender himself to this task, responding exhaustively, responsibly, not to boycott the goal.

After almost two months of dieting, and a few days before surgery, performing a liquid diet to shrink the liver, thus facilitating the task of surgeons.
This is perhaps the hardest step. But it is easy to bear, because the target is in sight and the expectation of a great achievement, they push you hard.

After surgery, it's like everything starts eating again nuevo.Se learn.
Now you have the certainty that you will lose weight and solve a problem, to kill it, you realize the order of magnitude that I had ... you realize how many things had invaded in your life, because in reality, you was depriving.

NOT exaggerating. You'll experience.

A year and three months have had the surgery, I went for a blood test, and he left the CEMIC Galvan, a rapid stride of walking (now my weight is 85 kg), he could not stop thinking about the day between there for the first time, such an interview, with 152,750 kg (although we take treatment start weight, 150 kg.), and that walk, remember, it was a slow stride.

And I thought, here we heal ...

For it is my feeling, I'm cured, even though this is a chronic disease, which claims to have the guard always on the rise.
Only now, you fight with the advantage in winning.

Back when I was obese, diets were extremely difficult to meet, extremely hard, harsh ... only we know the enormous sacrifice that we have made many, many times ... no success.
Looking at the mirror, at the waist in the pictures ... our failure ...

After losing 65 kg, fácil.Ya care is not dieting, eat healthy. Since you have no hunger. You are filled with normal portions of food. Comés all, but as you're not stupid, and learned, comés what suits you and what led you to the previous problem.
It had ended arrhythmia, constant pain knees, fatigue, boredom, hiato.Me hernia be transformed from'' contemplative'' to reappear in my life, like being active''''. I started playing rugby at senior ... God, that pleasure to tackle! ... I went to dive, I went to the gym.

Activity in the seats in economy class tickets, and I have spare belt ... I jog five miles three times a week, in the same park where once walked with difficulty ... Use the clothes I want, NOT what I get. And paying regular price, not the price of special detail ..
And I have not already, the limitation of my body for fun.

Think (Think of it as exercise) which is what you'd do if you were that skinny you were or you were never ... no matter how crazy it is that thought ... because it is within your reach.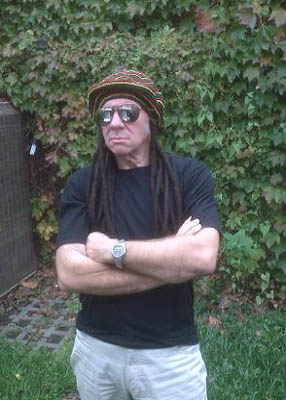 Through the bariatric surgery group, I am at your service throughout requieras help from me.
Schedule a comparative photos, I'm with wig ... I also changed the mood ... for good ...!

Hugs!

Gustavo